About Summer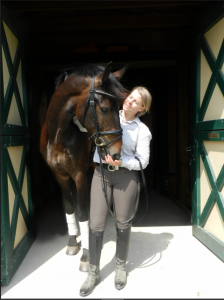 Summer is proud to have represented her country as a member of the Ontario Young Riders Dressage team at the North American Young Riders Championship, as well as being a member of the Canadian Equestrian Team at the Coupes des Ameriques.
Summer has been a Long Listed rider and the recipient of many awards including numerous championship wins at Silver, Gold and Platinum levels of competition. As a result, she knows how to provide both horses and riders with the confidence, encouragement and skills needed to successfully approach their own riding goals.
In the 2013 show season Summer earned Dressage Canada Medals on three horses at Training, Second and Third level with scores well into the 70's on each horse. Summer was also extremely proud to coach her students to Champion and Reserve Champion titles in both Amateur and Open divisions.
Summer has worked with some exceptional trainers including long-time mentor Nancy MacLachlan, Cindy Ishoy, Christian Garweg, Ashley Holzer, Gina Smith, and Stephen Clarke, to name a few, and is enthusiastic about passing this knowledge on to her students and horses.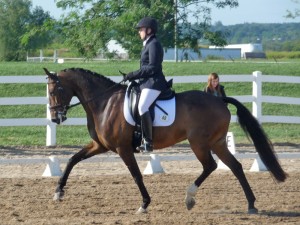 As a rider, Summer is always working hard to broaden her knowledge while her excellent training and foundation have given her the depth to be able to approach every horse as an individual. Her perceptive understanding of their nature, strengths and weaknesses allows her to formulate a unique plan for success with each horse.
Summer has also found that her modest background has actually provided her with a surprising strength. Without access to the finances required to purchase exceptional horses, she has had to overcome many training challenges with the horses she has partnered with. Difficult and sometimes not perfectly suitable horses taught Summer to ride and teach with compassion, encouragement, creativity and sensitivity.
Summer approaches her short and long-term goals with the same blend of determination and grace. Her life-long ambition has been to become an Olympian. With the help of her sponsors, friends and family, she will achieve these goals and many others along the way! Visit the Sponsorship page to find out how you can assist this talented athlete in achieving her dreams.