Making Appropriate Corrections
October 22, 2013 by Summer
One of the most common mistakes I encounter when teaching happens when riders begin correcting the symptoms of their problems. By this I mean that a rider gets so involved with trying to make everything look perfect, that they lose sight of where the problem actually began.
Imagine you went to the doctor with a compound fracture. The doctor wouldn't stick a bandage over the bloody bone jutting out of your leg and send you home. That wouldn't make you any better, it would only make it appear better. It would also lead to all kinds of other symptoms; a limp, infection, pain. He would instead, reset the leg and deal with the source of the problem, the break.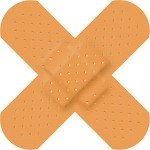 The same idea can be applied to your riding. Let's say that you are trying to turn down the centre line on the right rein but for some reason every time you try it, your horse ends up two meters off the line, way over flexed to the right and you find yourself in a pretzel like position with your right hand in your lap! What has gone wrong? How did you end up here?
What has happened is that the rider has started slapping Bandaids on the issue and they are not recognizing the source of the problem. The horse isn't turning, so the rider begins to throw everything they have at the horse in an attempt to improve the situation. It doesn't work because the rider has missed that this predicament occurred as a result of the horse not responding correctly to the outside aids (turning aids). The proper correction in this case would be to reinforce the outside aids with a kick from the outside leg and a half-halt with the outside rein. This would stop all of the complications seen in the rider's initial incorrect approach, from ever occurring. Be careful to avoid piling aids on top of aids to fix your problems, it never works! Always try to discover the source of the problem. Continually referring back to your training pyramid will help you with this. If you are having to "muscle" through it, you're probably heading in the wrong direction.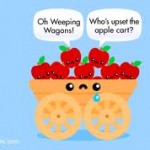 As dressage riders we all have this idea that everything has to be beautiful all the time. Well, I'm saying that sometimes you need to "upset the applecart"! Too often we allow our horses to respond incorrectly or not at all to our aids in the pursuit of "pretty", only to end up compromising our position and therefore our ability to progress within an exercise. Be sure that every aid you apply gets the result it intended. There are few things in dressage training that will take you out at the knees faster than a poorly enforced aid!