News and Events
June 11, 2014 by Summer
Another terrific clinic with Christian! We had quite a variety of horses that attended. Everything from green, 4 year olds to Prix St. Georges horses. As usual a ton of really interesting information and creative exercises. Christian approaches each horse with a completely different strategy and really understands each horse and rider as an individual.
Christian works with dressage horses and jumpers and has a wealth of tools at his disposal, which he is happy to pass on to his students. At this clinic, one of our riders even had a long-lining lesson! It was fun to watch and very informative.
It is always exciting to see what Christian can bring out in the horse and rider teams. He pushes each horse and rider outside of their comfort zone and shows they what they can truly be capable of. It is very inspiring to watch the riders and horses blossom under his instruction.
If you haven't experienced one of his lessons yet, I encourage you to do so when he returns in July for his next clinic. I will post details here as I receive them. Riding and auditing spots are always available and are open to all. If you are interested in joining us, please send me and email or give me a call. These clinics are always very fun and are held in a very positive and supportive atmosphere where everyone is welcome and no one is judged. We are all just here to learn!
April 14, 2014 by
On the week of May 11th-18th, German rider, coach and trainer Christian Garweg will be returning for a clinic. The clinic will be hosted by Allessa Fisher at her lovely farm just south of Guelph in Puslinch. We are hoping that this beautiful weather will continue and that perhaps we will be able to be outside! If not, Allessa's farm also has an almost full-sized, mirrored indoor arena.
I have been riding with Christian and organizing clinics with him for years now and we always have terrific feedback! Christian is a very enthusiastic coach who will no doubt put as much energy into your lesson as you do. His methods and training are very correct but his approach to the development of your horse and your riding skills is always creative and individualised. If you are having trouble finding the key to unlocking your training issues, Christian will get to the heart of it!
Riding and auditing spots are available and you will be able to book both through emailing me at info@summerbaillie.com. Everyone is welcome! Please come and join us for a few days full of fun, inspiration and of course learning!
Please check Christian out at his website: www.christiangarweg.com
December 1, 2013 by
Summer McEwan and BonAccord Training Centre are pleased to announce that they will be hosting a clinic with German, FEI rider, trainer and coach, Christian Garweg on December 18th and 19th. Christian has a wealth of experience and knowledge to bring to the table and a wonderfully creative yet classical approach to correct dressage training. His philosophies promise to revolutionize your the way you think about dressage! For more information on Christian, please have a look at his website http://www.christiangarweg.com/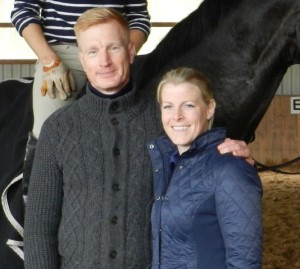 If you are interested in riding with Christian or hoping to audit, please contact Summer directly. Christian returns on a 5-8 week rotation, so please keep checking back for updates on when the next clinic will occur.
These clinics are always very fun and informative! They are open to riders of all level and auditors are welcome.
Hope to see you there!
Summer
June 1, 2013 by
What a terrific weekend at the newly renovated show grounds! The footing is holding up beautifully and the new layout is very horse friendly.
This weekend I was partnered up with Nancy MacLachlan and MacDay Farms. Nancy had a whole crew of students competing this weekend and everyone came home with lots of ribbons!
I was competing Orlando, owned by Julia Fogel, at Prix St Georges and we have a had a very successful weekend! The first day we were still working out the kinks so we had a bit of a modest score of 62.4%. Saturday Orlando found his groove and we achieved a score of 66.25%, with one of the judges scoring him as high as 69%! Orlando's effort was good enough to clench 2nd place in this class. This lovely horse has real character and is so much fun to ride! I will be posting the video of Saturday's test, for everyone to enjoy.
I also had the pleasure of competing Dreo. A rising 6 year old mare owned and bred by Judy Farncombe. This girl has a heart of gold and loves the ring! Dreo made her Second level debut this weekend and was a star. On Friday, she sailed through test 1, to the tune of 73.5%, to take 2nd place. On Saturday the test was still solid but the day provided a little more distraction. She finished up with a strong score of 65% and a 3rd place finish.
I would like to thank the owners of these lovely horses, Julia Fogel and Judy Farncombe and of course, Nancy MacLachlan for all of her help in preparation. A fantastic start to what promises to be a fun season!
December 6, 2012 by
It seems that the good old Canadian weather is interfering with important horse business once again! Due to uncertain shipping conditions, Christian will be taking the risk on our wintery roads during his next visit. He will be here between January 5th and 9th.
Everyone will still be welcome to ship into Martin Farms if they would like but if you can gather together a few people to make the trip worth his while, we may be able to get Christian Garweg to come to you. If you are interested in having a lesson or two, please contact me ASAP and I will do my best to fit you in!